Beef Stew w/ Hatch Green Chiles
Nutrition Information
Fat:

9 g

Carbohydrates:

11 g

Protein:

21 g

Cholesterol:

60 mg
Prep Time:
Cook Time:
Total Time: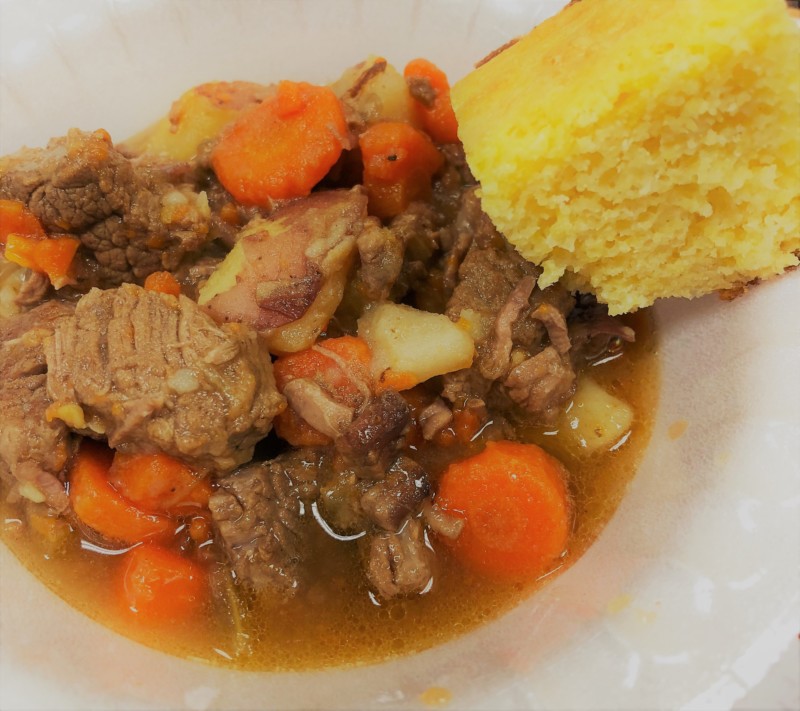 Ingredients
3 tablespoons olive oil
1 tablespoon butter
2½ pounds extra lean stew meat, trimmed of all fat and cut into bite sized pieces
1 medium onion, diced
1 cup celery, sliced
3 cloves garlic, finely chopped
1 can (12 oz.) beer (optional)
4 cups beef stock
2 cups water
1 tablespoon Worcestershire sauce
2 tablespoons tomato paste
½ teaspoon salt
Freshly ground black pepper
2 teaspoons sugar
6 whole carrots, peeled and sliced
5 whole new potatoes, cubed
¼ cup Hatch Green Chilies
Instructions
Heat oil and butter in a large Dutch oven over medium-high heat. Brown meat in two batches, setting aside on a plate when browned; set aside.
Add onions and celery to Dutch oven (add more oil as needed). Stir and cook for two or three minutes until softened, then add garlic for another minute. Add beer, beef stock, Worcestershire, tomato paste, salt, pepper, and sugar. Add beef and pan drippings back into the pot. Stir to combine. Cover and simmer for 1 hour.
Add carrots, potatoes, and green chilies. Cover and cook for an additional hour or until liquid is reduced and meat is tender. Add water and adjust seasonings as needed.
Notes
Exchanges: 2 Fat; 1 Carbohydrate; 3 Protein