Sunny Roughy in Citrus Cream Sauce
Nutrition Information
Serving Size:

3-4 ounce fillet

Calories:

240
Fat:

12 g

Saturated Fat:

5 g

Carbohydrates:

6 g

Sodium:

360 mg

Protein:

23 g

Cholesterol:

105 mg
Prep Time:
Cook Time:
Total Time: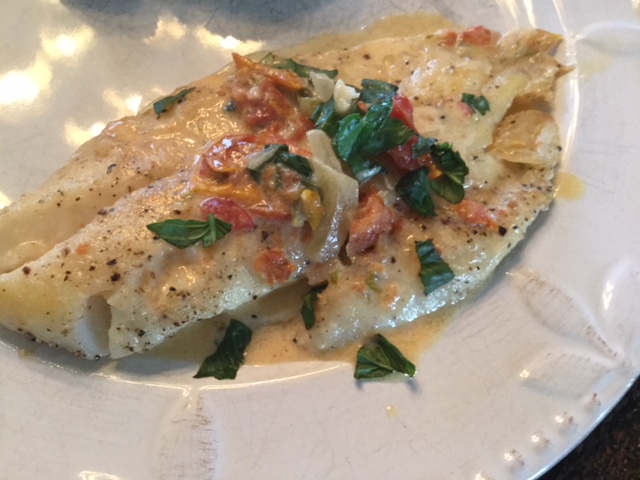 Serve with pasta or rice to help 'catch' more of the sauce!
Ingredients
1 ½ pounds orange roughy fillets
½ teaspoon each salt and fresh cracked black pepper
1 tablespoon flour
2 shallots, thinly sliced
2 cloves garlic, minced
2 tablespoons coarsely chopped sun-dried tomatoes
1 lime, for zest and juice
2 tablespoons canola oil
1 cup clam juice
½ cup dry white wine
¼ cup fresh orange juice
½ cup heavy cream
6 basil leaves, chiffonade
Instructions
Cut fish into 6 portions. Pat dry. Lay fish on a sheet of wax paper. Season with salt and pepper then sprinkle with flour, shake off excess. Turn; season and flour second side.
Heat oil in a large skillet over medium high heat. Cook fish 2 to 4 minutes on each side, depending on thickness. Remove to a plate and keep warm.
In same skillet, add shallots and garlic; sauté 30 seconds. Add tomatoes, clam juice, wine and lime juice; cook 5 minutes or until reduced by half. Stir in orange juice, cream and lime zest; return fillets to skillet. Reduce heat and simmer 2 to 3 minutes.
To serve, place fish fillets on plate, drizzle with sauce and sprinkle with basil.
Exchanges: 0 Carbohydrates, 3 Protein, 2 Fats